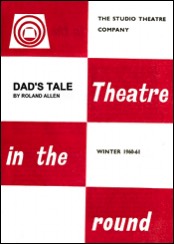 To navigate, use the links in the bar above or in the right hand column.


World Premiere:
19 December 1960

Venue:
Library Theatre, Scarborough

London Premiere:
N/A

Venue:
N/A


Play Number:
3

Published:
No

Other Media:
No


Short Synopsis:
A Christmas play incorporating balletic interludes in which a poor family dreams of happier times.


Note:
Written under the pseudonym of Roland Allen.
Dad's Tale
has been withdrawn for production and has never been published.


Availability
Amateur:
Not available for production

Professional:
Not available for production
Dad's Tale Quote
"It's so easy for you, isn't it? Just a few pounds here and a few pounds there and everyone's happy. You think this is just one big joke, having no money? Just another Christmas game - like Postman's Knock. If you knew what it was like, you'd think again."
All research and original material in Dad's Tale section of Alan Ayckbourn's Official Website is by Simon Murgatroyd M.A. and copyright of Haydonning Ltd. All other material is copyright of the named copyright holder. Please do not reproduce any material without permission of the copyright holder. For enquiries, email: archive@alanayckbourn.net