This page reproduces a scene from the play offering an insight into and a taste of the unpublished work. The dialogue is reproduced in the style of the original including grammatical choices / errors.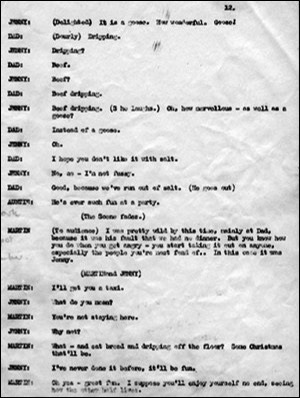 Act 2
(pages 11 - 13)

(A bare living room).

Jenny:
Martin and I were just saying that we didn't think furniture mattered that much, especially not at Christmas I mean, it'll be much more fun having our Christmas dinner on the floor and so on…

Auntie:
(Uncertainly)
Yes.

Jenny:
I always think it's much more fun eating a turkey with one's fingers than fiddling with a knife and fork. I find I always splash the gravy all over the table cloth anyway!
(She laughs)
Auntie:
(Joining in half-heartedly)
Well, we….

Jenny:
You are having a turkey, aren't you? Martin said you were.

Auntie:
Well now….

Jenny:
Please don't worry if it's a chicken. Is it a chicken?

Auntie:
Er….

Jenny:
Actually to be honest I prefer chicken to turkey. It seems to have more taste.

Auntie:
We're not quite sure….

Jenny:
You're not having duck, are you?

Auntie:
(Hurriedly)
Oh no, no.

Jenny:
Or a goose – is it a goose?

Auntie:
(Vaguely)
Goose….

Jenny:
(Delighted)
It is a goose. How wonderful! Goose.

Dad:
(Dourly)
Dripping.

Jenny:
Dripping?

Dad:
Beef.

Jenny:
Beef?

Dad:
Beef dripping.

Jenny:
Beef dripping.
(She laughs)
Oh, how marvellous - as well as a goose?

Dad:
Instead of a goose.

Jenny:
Oh.

Dad:
I hope you don't like it with salt.

Jenny:
No, no - I'm not fussy.

Dad:
Good, because we've run out of salt.
(He goes out)
.

Martin:
(To audience)
I was pretty wild by this time, mainly at Dad, because it was his fault that we had no dinner. But you know how you do when you get angry - you start taking it out on anyone, especially the people you're most fond of… In this case it was Jenny.

Martin:
I'll get you a taxi.

Jenny:
What do you mean?

Martin:
You're not staying here.

Jenny:
Why not?

Martin:
What - and eat bread and dripping off the floor? Some Christmas that'll be.

Jenny:
I've never done it before, it'll be fun.

Martin:
Oh yes - great fun. I suppose you'll enjoy yourself no end, seeing how the other half lives.

Jenny:
What a horrid thing to say.

Martin:
So you can go back and tell all those friends of yours what a quaint Christmas you had.

Jenny:
What's the matter with you?

Martin:
You don't have to be polite to me you know.

Jenny:
Martin, for Heaven's sake! Alright then - if you don't want me to stay here. Come back with me - you, Auntie and your father. Daddy's longing to meet you properly. We'll all have Christmas dinner at my place. How about that?
(Martin does not reply)
Martin!
(Martin stands away, brooding angrily)
Martin, will you come back with me?

Martin:
Of course I can't. It's very kind of you to….

Jenny:
I don't want to be kind. I love you.

Martin:
(Muttering)
There are some things that are more important than love sometimes.

Jenny:
Are there? Listen, I shall go out and buy us all a meal then. I can afford it I think I've got enough money on me.

Martin:
It's so easy for you, isn't it? Just a few pounds here and a few pounds there and everyone's happy. You think this is just one big joke, having no money? Just another Christmas game - like Postman's Knock. If you knew what it was like, you'd think again. Still you never will now, we were brought up different that's all and it seems to me it would be better if we stayed different.

Jenny:
Do you mean I should go for good?

Martin:
Yes.

Jenny:
Alright, if you think so. I'll find my own way home. There's no need to come with me. Goodbye, Martin.
(Exit Jenny)
Martin:
(To audience)
I just sat by the window and stared out. I didn't want to live any more. I just kept staring out. I had planned such a lovely Christmas for Jenny and me… It was then I heard it… Music - coming from outside.
At first I thought the people next door had got the telly turned up too loud, but then suddenly, there it was - lights all over the place. It was a circus procession coming right past our window.
Notes
This scene is reproduced from the one of the few surviving original manuscripts of
Dad's Tale
, which is held in the Ayckbourn Archive at the Borthwick Institute at the University Of York.

Dad's Tale
is one of Alan Ayckbourn's earliest attempts (alongside
Christmas V Mastermind
in 1962) at a play for the family and his earliest acknowledged taste of failure (although his two previous plays are unpublished and unavailable, they were extremely successful productions.
Dad's Tale
, on the other hand, was resolutely not).
The scene illustrates several interesting points about the play and its place in Alan's development as a writer and within the play canon.

Dad's Tale
is the first of the playwright's Christmas plays and, like the vast majority of his seasonal plays, it's not a happy time for the family and the cause of much tension (for development see
Absurd Person Singular
,
Season's Greetings
et al.)
If it has any point of interest in technique it is the first Ayckbourn play in which the narrator deliberately breaks the fourth wall to address the audience as an established convention. The end of the scene sees Martin directing his thoughts at the audience and it pre-figures a recurring technique in the family plays such as
Invisible Friends
and
Miss Yesterday
.
Like his first play,
The Square Cat
,
Dad's Tale
offers a glimpse at the dysfunctional relationships which will be come a staple of the Ayckbourn canon. Here even young love does not run smoothly and the relationship of the family - particularly with 'Dad' - is often fractious. Unlike much of what is to follow,
Dad's Tale
does have a happy ending (albeit one in which 'Dad' turns into a budgie and flies away).
The scene also illustrates the clash of the classes with the working class Martin and the upper (or at least upper-middle) class girlfriend Jenny. Class hierarchies and attitudes are quite frequent, if subtle, elements in the Ayckbourn canon.
Finally, the dialogue about beef dripping is interesting as Alan was - according to published interviews during the '70s - quite fond of dripping sandwiches due to being fed it by his mum as a child; it's not something of which he now partakes though!
The Scene and Archive Images pages are presented in association with the
Borthwick Institute for Archives
at the University of York, where the Ayckbourn Archive is held.
The scene reproduced on this page (both transcription and the actual page) is copyright of Haydonning Ltd and should not be reproduced in any format without the permission of the copyright holder. All other material is written by Simon Murgatroyd and copyright of Haydonning Ltd and should not be reproduced without permission.